New 2020 Mitsubishi Outlander Sport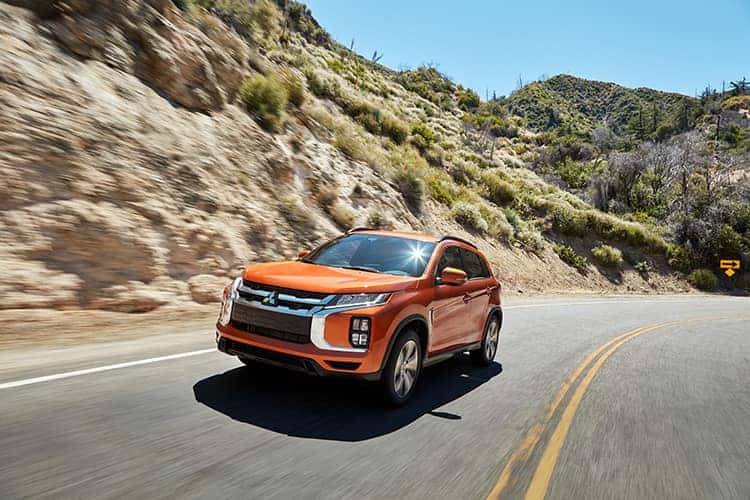 Athletic and agile, the Mitsubishi Outlander Sport is an excellent vehicle for thrill-seeking drivers in need of something practical and functional. This SUV is designed with rugged performance capabilities and an appealing style. For 2020, you can find the Mitsubishi Outlander Sport in four trim levels; ES, SP, SE, and GT.
The ES, SP, and SE trim levels of the 2020 Mitsubishi Outlander Sport are powered by a 2.0-liter inline-four engine. This engine comes with a five-speed manual transmission or a continuously variable automatic transmission, depending on your needs. The 2.0-liter inline-four engine earns as much as 148 horsepower at 6,000 revolutions per minute (rpm) and 145-pound-feet of torque at 4,200 rpm. Meanwhile, if you select the GT trim level of the 2020 Outlander Sport, you can enjoy a 2.4-liter inline-four engine that earns 168 horsepower at 6,000 rpm and 167-pound-feet of torque at 4,100 rpm.
The 2020 Mitsubishi Outlander Sport comes standard with several appealing features that are sure to meet your needs and the needs of your family. For example, the Outlander Sport comes with automatic climate control. The Outlander Sport is also available with several safety features including an 8-inch touch screen infotainment system, Siri or Google Assistance, and Apple CarPlay and Android Auto.
In addition to innovative infotainment technology, the 2020 Mitsubishi Outlander Sport also offers incredible safety technology to provide peace of mind to riders. You can find the Outlander Sport SE trim with lane change assist with blind-spot warning, rear cross-traffic alert, automatic high beams, lane departure warning, and forward collision mitigation.
You can check out the 2020 Mitsubishi Outlander Sport at Brooklyn Mitsubishi. We are located at 5910 Church Avenue in Brooklyn, or you can give us a call at 718-345-1600 to schedule your test drive. We look forward to hearing from you soon!