New 2020 Mitsubishi Mirage G4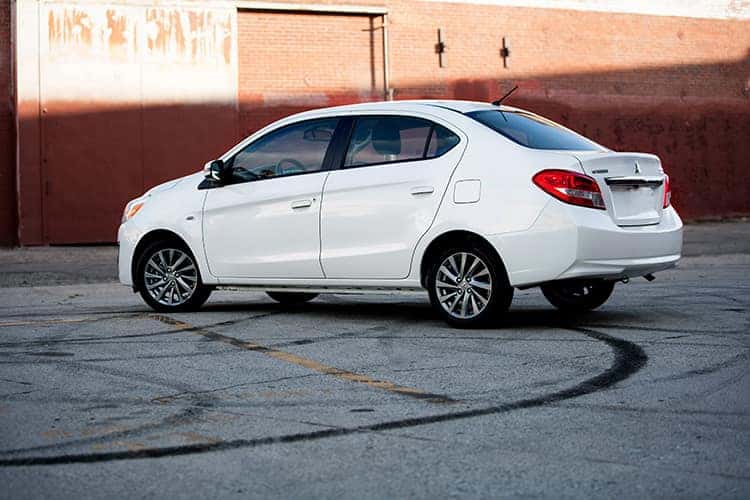 The 2020 Mitsubishi Mirage G4 is all about enjoyable driving. This vehicle is available in vivid colors and is packed with appealing features. If you're looking for a fun sedan, the 2020 Mirage G4 is a must-see. Discover this vehicle in three trim levels for 2020; ES, LE, and SE, and seven exterior paint colors, including Sapphire Blue Metallic and Wine Red Metallic.
The 2020 Mitsubishi Mirage G4 is an excellent selection for city dwellers. The vehicle is compact in size, making it easy to get around in. The Mirage G4 is also fuel-efficient, allowing you to save money and reduce your carbon footprint. The vehicle earns 33 mpg in the city, 40 mpg on the highway, and 35 mpg combined.
Under the hood of the 2020 Mitsubishi Mirage G4 is a 1.2-liter three-cylinder engine. This engine can earn up to 78 horsepower at 6,000 revolutions per minute (rpm) and 74-pound feet of torque at 4,000 rpm. This engine is additionally mated to a five-speed manual transmission.
The 2020 Mitsubishi Mirage G4 offers 89.2 cubic feet of passenger space or 101.8 cubic feet of total interior space. The trunk is 12.6 cubic feet, and the vehicle seats up to five passengers. The Mirage G4 is compact but offers ample space for loved ones or cargo.
The 2020 Mitsubishi Mirage G4 comes standard with Bluetooth wireless technology so you can use your smartphone when getting from here to there. You can make hands-free phone calls, listen to your music library, or utilize your favorite navigation apps. The 2020 Mirage G4 also comes standard with remote keyless entry, a USB port, premium radio, a 12V power outlet, and steering wheeling controls.
Come make the 2020 Mitsubishi Mirage G4 yours when you make your way to Brooklyn Mitsubishi. We are located in Brooklyn, New York at 5910 Church Avenue. We hope you will visit us soon!